Tool Grinding Software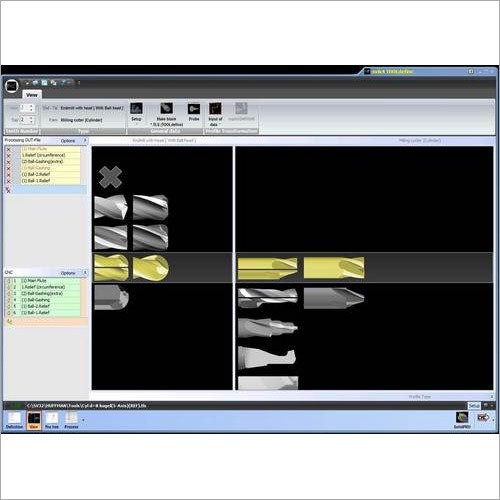 Tool Grinding Software
Price And Quantity
Unit/Units,

1500000-6500000 INR
Product Description
Tool Grinding Software
Introduction
Generalities
Toolbox
is an application that serves the CNC control of machine tools for manufacturing and sharpening drills and milling cutters. Practically this program can be applied to any CNC controlled machine tool independently of the development level of the CNC control.
General abilities of the program:
operating in Inch/mm
production/different types of sharpening
different technologies depending upon type of machined material: HSS/Hard metal,
etc.
type of processing: Depth-/tooth processing
up to 40 teeth
equal/unequal tooth pitch
tools with right/left hand helix
tools with right/left hand cutting part
type of tool: spiral/straight/flat drill (for special tools)
spiral development: constant spiral angle/spiral upward gradient (for standard
devices)
head geometry: without/milling cutters/spherical head/ chamfer
specific processing according to head geometry
external profile: Form cutters/standard milling cutters/profile-special
Specific abilities of the program:
Form cutters tools:
up to 10 of different clearance faces over the entire profile
machining type: from above/ lateral/ below
machining direction :from front to back/ back to front
up to 4 different flutes with correction of the rake face
up to 4 different back correction processing steps
Standard milling cutters:
cylindrical/conical
for cylindrical tools: linear/radial chamfers
up to 3 different chamfers (clearance faces)
from front to back/ back to front polished outer contour
The kinematics modules are adaptable for all machine tools with 5 axis at least (5 axis are necessary for the processing).

For each individual axis are offered the following adjustment possibilities: reference coordinates (zero point), name, direction of movement, moving item, maximal size of the displacements, etc. Additionally, Toolbox offers the possibility of defining the vector field of the spindle and the number and position of the tool clamping. Additionally, can be attached a measuring probe that gives information about the length and position of the work piece dimensions and position. The program can read specific information over the CNC control or the machine.

The structure of the application allows the program to be easily used by personnel within the area of the cutting tools, without being necessary additional formation in computer field.

The cutting tools files generated in Toolbox contain all the information for manufacturing the tools: geometry, kinematics, grinding wheels, sequences of processing, technology, information about machine-tool and CNC hardware that can be retrieved at any time by the user.
Product details
| | |
| --- | --- |
| Free Required RAM | 8gb |
| Download Option | online |
| Brand | Tool Wizard |
| Operating System | machines |
| Free Required RAM | 8gb |
| Download Option | online |
| Brand | Tool Wizard |