CNC Tool Grinding Software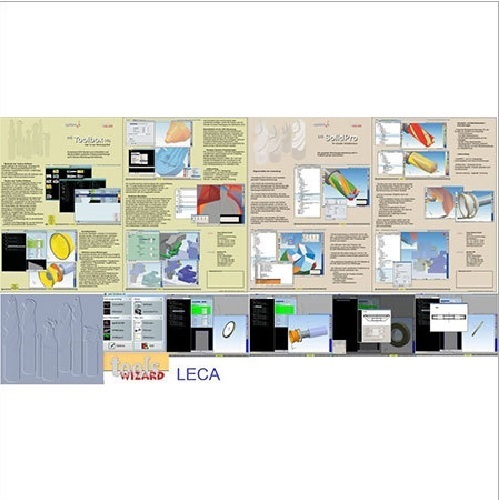 CNC Tool Grinding Software
Product Description
CNC Tool Grinding Machine
From our extensive range of machinery, we manufacture, export and supply supreme quality CNC Tool Grinding Machine. For the manufacturing of this machine, our professionals use superior quality components and pioneering technology in sync with the defined international standards. Specially designed to bend stiff and hard material pipes into small radius with ease, the offered CNC Tool Grinding Machine is available in varied models and specifications as per the application requirements of customers at reasonable rates.
Features of CNC Tool Grinding Machine :
Fully automatic
Easy operation
User friendly applications
Long service life
Model - NCW300 - 3 Axis
The CNC Tool Grinding Machine NCW 300 -3 Axis is designed for wide range of application with 3 axis CNC movement, combined with 9 manually adjustable rotating and Swivel axis, solve almost all grinding requirement. All movements are fully automatic and one operator can load several machines. Easy operation is ensured by user friendly menus, for flute, peripheral, radius taper or cylindrical grinding. In addition the spiral leads are measured with an electronic measuring probe and recorded in the control. The 3-D continuous path control with graphic display is also freely programmable and tooling data is entered vis ISO standard code to DIN 66025
Simple input of grinding data with the help of direct operator dialogue, no programming knowledge is required. Short setup times and possibilities for greater economy and high grinding quality. regrinding made possible by repeatable, accurate and quick measuring of spiral lead by means of electronic measuring probe. Variable adjustable rotary and swivelling axis bring the work head in any required ( vertical or horizontal axis, up or down, left or right ) against the grinding spindle axis.







TECHNICAL DATA





GENERAL

FEATURES OF NCW300

FEATURES OF CNC CONTROL FOR 3 AXIS TOOL & CUTTER GRINDER

GENERAL



KINEMATIC FOR NEW 300 - 3 AXIS
CNC - AXIS




X- Longitudinal 300 mm
Z- Cross 100 mm


C- Rotation 3 60 0
Resolution X/Z 0.001 mm
C 0.001 0






MANUAL AXIS




Y - Movement of vertical slide
200 mm
A - Rotation of wheel spindle Horizontal axis
360 0
B - Rotation of wheel spindle Vertical axis
3 60 0
D - Movement of Spindle axial
120 mm
E - Movement of vertical slide independently
100 mm
F - Movement of cross slide
250 mm
G - Manual Movement of axis table
400 mm
J - Manual Movement of cutter head rotation Horizontal
2700
K - Manual Movement of cutter head vertical
+/- 300




FEATURES OF NCW300
X-axis 300 mm / Resolution 0.001
Z-axis 300 mm / Resolution 0.001
C-axis 300 mm / Resolution 0.0010
Max. work piece length
280 mm
Max. work piece diameter
300 mm
Workhead taper
ISO 40 / ISO 50 / MT5
Center height
245 mm
Indexing
1-999
Run out / Concentricity
0.003 mm
Manual Axes
Movement cross / infeed axis
250 mm
Movement height / infeed axis
200 mm
Swivelling grinding Spindle Horizontal / Vertical
3600
Movement of Spindle independently
120 mm
Electric
Servo Motors
2.5 Nm
Grinding Spindle
1,5 KW
Frequency controlled
1000 -9000 U/min
Main voltage
AC/ 400 V
Base Dimensions
B= 1600/ T=1100/H=1800mm
Net Weight
850 Kg

MENU DRIVEN SOFTWARE & Caned Cycles
Spiral OD grinding
Spiral OD grinding with End Radius
Spiral Grinding on Flutes
For Right hand Helix / Left hand cutting
For Right hand Helix / Right hand cutting
For Left hand Helix / Left hand cutting
For Left hand Helix / Right hand cutting
END grinding with Centre cutting / without Centre cutting
Taper Grinding

FEATURES OF CNC CONTROL FOR 3 AXIS TOOL & CUTTER GRINDER

List of G - Functions

G00 RAPID TRAVERSE
G53 DISPLACEMENT OFF
G01 LINEAR INTERPOLATION
G54 DISPLACEMENT ON
G02 CIRCLE CW
G55 DISPLACEMENT
G03 CIRCLE CCW
G58*
G04 DWELL TIME
G59*
G05 CIRCLE WITH RADIUS CW
G67 SOFTWARE LIMIT SWITCH
G06 CIRCLE WITH RADIUS CCW
G68 SOFTWARE LIMIT SWITCH +
G07 CIRCLE WITH ANGLE
G74 REFERENCE POINT
G08 ASYNCHRONOUS MOVEMENT
G76 SCALE FACTOR OFF
G09 SKIP REST OF TRAVEL
G78 FREE CYCLE
G10 CORNER ROUNDING ( OPTION )
G79 FREE CYCLE
G11 ADDITIONAL FUNCTIONS F,S,T
G80 CYCLE OFF
G13 ADDITIONAL M - FUNCTIONS
G81 FREE MODAL CYCLE
G17 PLANE XY
G82 FREE MODAL CYCLE
G18 PLANE Xz
G83 FREE CYCLE
G19 PLANE YZ
G84 MEASURE INCLINATION
G20 JUMP TO PROGRAM
G85 INCLINATION
G22 CALL PROGRAM
G86 FREE CYCLE
G23 CALL / JUMP WITH CONDITION
G87 FREE CYCLE
G29 FREE CYCLE
G88 FREE CYCLE
G36 TOOL CHANGE
G89 FREE CYCLE
G40 RADIUS CORRECTION OFF
G90 ABSOLUTE INPUT
G41 RADIUS CORRECTION LEFT
G91 INCREMENTAL INPUT
G42 RADIUS CORRECTION RIGHT
G92 ZERO OFFSET

List of M - Functions

M00 PROGRAMMED STOP
M01 PROGRAMMED STOP ( WITH ACOUSTICS SIGNAL )
M02 PRGRAM END
M03 SPINDLE ON CW
M04 SPINDLE ON CCW
M05 SPINDLE STOP
M08 COOLING ON
M10 COOLING OFF
M11
M12 SPINDLE / COOLING STOP
M13 SPINDLE / COOLING START ON CW
M14 SPINDLE / COOLING START ON CCW
M15 ACUSTIC SIGNAL
M16 WAIT FOR "INPUT 1"
M18
M19
M21 BLOCK UPDATING OF
M22 BLOCK UPDATING OFF IN PROGRAM CALLS
M23 FEED RATE POTENTIOMETER OFF
M24 TEST RUN WITHOUT G04 AND M FUNCTIONS
M25 TEST RUN WITH RAPID TRAVERSE
M26 KEYBOARD OFF