Advantage 400 Cnc Systems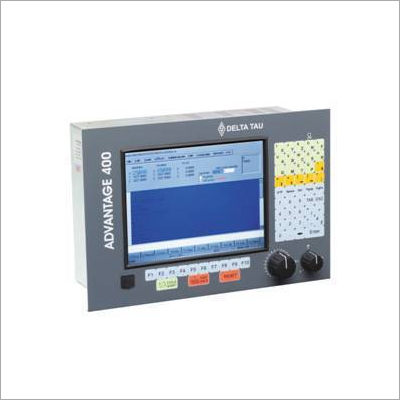 Advantage 400 Cnc Systems
Product Description
Advantage 400 Cnc Systems
Technical Specification

The ADVANTAGE 400 is a CNC system up to 5 axis. +/-10V as well as stepper output is available. The system is based on the powerful PMAC2 axis controller in association with an embedded PC104 computer. The front panel includes a flat screen, F-keys and keyboard for easy programming, debugging and management of the machine. The back panel includes all connectors for an easy and complete machine connection



COMPACT OPERATOR PANEL
8.4 LCD TFT Color Flat Panel Monitor 800x600 Display, Complete CNC standard keyboard with Alphanumeric Keys, F1-F10 Functions keys, Cycle Start / Cycle Stop / Reset buttons, Feed-rate potentiometer, Hand-Wheel 50 ppr, USB-Interface for Keyboard and other USB compatible peripherals.

EMBEDDED PC104 COMPUTER
586, 166 MHz CPU, 128MB SDRAM, 16MB Flash Disk, Windows CE.net Operating System,
Optional Flash Memory 32/64/128 MB and Ethernet RJ 45 interface

POWERFULL MULTI-AXIS CONTROLLER
Based on the DELTA TAU's PMAC2 technology, 40 MHz DSP563xx CPU (80 MHz 560xx equivalent), 128k x 24 internal zero-wait-state SRAM, 512k x 8 flash memory for user backup & firmware

COMPLETE CNC SOFTWARE INTERFACE
Provides all the pages to monitor, create and control
the CNC Machine. Position display, program editor, messages, tools management are simple and quick to set up. RS274 G-code language with Linear, Circular and Spline interpolations and DNC-interface for running long programs from external memory and with up to 64 PLC's for I/Os and machine sequences management the Advantage 400 is unsurpassed.

HARDWARE INTERFACE
IN/OUT 32 Inputs 12 - 30V, Opto-Isolated sourcing
16 Outputs 30V Screw Terminals
AMP 1 +/10V Axes Command Signal, AMPENA
AMP-FLT
FLG 1 LIMIT +, LIMIT-, HOME, USER inputs
STP Pulse-Direction Interface for Axes 1 - 4
ENC1..ENC4 4 x RS422 Encoder Input 5V, max 10MHz Frequency
ENC 5 / HW1 1 x RS422 Encoder Input 5V, max 10MHz Frequency (for 5th Axes or Hand-Wheel)
ANA1 2 x Analog out 12bit, 3 x Analog in 12bit
ENC 6 6th axes RS422 Encoder Interface Option
RS 232 PMAC2 Serial Interface
RS 232 PC104 COM 1 or COM 2 RS232 / RS485 (Optional)
USB USB 1 PC-Interface
Printer Parallel PC port
VGA VGA 15-pin Connector
Ethernet LAN Connection
XX1 Multiplexed I/O (JTHW) for extended Control Panel and extra I/Os
Power Input 110 VAC / 230VAC
Dimensions 304.6W x 205H x 100D
Functional Specification

GENERAL DESCRIPTION
The ADV400 has been packaged using standard cable types, connectors available worldwide at common electronics suppliers, and industry electrical interfaces. All of this increases serviceability, reduces integration costs, and minimizes system complexity.Most machines require a software interface for user interaction. We supply one HMI to fit the needs of standard CNC machine tools. This interface contains many features that CNC operators enjoy. It also takes advantage of the power of the internal PMAC104 motion controller plus PC104 embedded computer to give many high level features to an otherwise simple system.



In addition to the ADV400CNC HMI and anticipating the need for flexibility we have designed the system in such a way that programmers familiar with any of the common software development tools can create custom HMI's.

Up to 64 PLC's can be implemented in to the system for user I/O and machine sequence management. These can be used for tool management, work offset management or status management.


Lead screw and planar compensation, Backslash compensation
Move until trigger, fast Capture of positions, Compare of positions with rapid output toggling
Master-Slave capability, External time-base feature for synchronization of part program to an external encoder.


The entire machine configuration is made from four interactive input screens. First you define the axis
characteristics. Then configure the axis I/O. Choose the axis reference methodology. Finally select general axis and CNC options. After these four steps the axes are configured for the CNC environment.

Machine operators will be pleased with the information available in the CNC interface. The colors, text size, and layout of the CNC pages make data easy to find and use. The main page provides the operator with critical machine data at a glance. Data entry and message pages use common windows interfaces which are easy to understand and use.


Programmable using included RS274 G-code library.
Also allows PMAC-style structured text program entry.
DNC interface allows program entry from external memory and TCPIP connections.
Alarm logging.
Dynamic language selection. Available languages are English, German, Chinese, and Thai. It is also possible to create a custom language file.